For Working in Line With Client's Vision Makes Hitz Digital Marketing Rank Amongst the Top Digital Marketing Company at GoodFirms
Thriving in the market as one of the best digital marketing agencies, Hitz Digital Marketing works closely with the clients' goals and identity. Here is the detailed list of services offered by Hitz Digital Marketing.
Introduction About the Company
Hitz Digital Marketing is an Ahmedabad, India based 360-degree digital marketing agency offering various services to brands worldwide. The Hitz team works in line with the clients' vision to build a successful digital marketing presence. The company has worked with top companies to propel their business towards success with digital marketing.
The Hitz team offers various services like- SEO services, PPC (pay per click), web design, social media marketing, and digital branding services. With technical expertise and accuracy, the team offers the most reliable digital solutions that can provide clients' a market edge. Moreover, the company has partnered with many technical partners such as Google ads, semrush, Moz, Ahrefs, Google tag manager, and Google analytics utilizing which they offer the most accurate solutions.
GoodFirms Research Process
GoodFirms is a B2B portal that acts as a bridge between customers and companies and brings them together on the same platform. All the companies ranked here are evaluated strictly on three factors: Quality, Reliability, and Ability. After passing through these parameters, the companies are then registered and ranked on the website.
GoodFirms evaluated Hitz Digital Marketing on the parameters mentioned above and concluded that they are taking clients' business to the next level by delivering outstanding digital marketing services.
Digital Marketing with Comprehensive Approach
Digital marketing is crucial for those who want to develop their company's online presence. And, the digital marketing team of Hitz offers comprehensive solutions to help clients grow their business digitally. The team provides research-based services to take care of clients' digital marketing needs.
Nitin Parmar, rated Hitz Digital Marketing with a 5-star rating. In his review, he mentioned about the professionalism and effective work offered by them. The detailed review can be read below.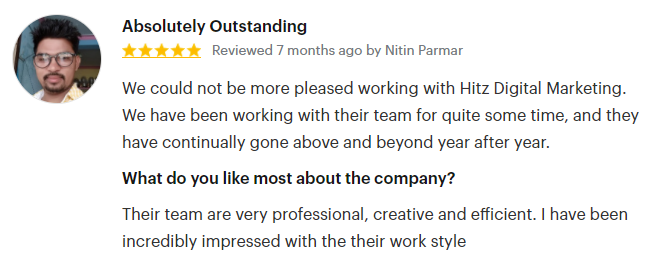 The forward-thinking team of Hitz evaluates clients' business in-depth and then builds strategies accordingly. By combining design, thinking, and technical expertise, the team always stays on the cutting edge to attain a remarkable place in the modern world. With a well-planned strategy, the team promises to deliver unparalleled solutions and unearth the hidden potential of its clients. In addition, to bring out the best results in digital marketing, the team goes into every detail to ensure that the process is smooth and effective. Therefore, inclined to offer unique and best solutions, Hitz Digital Marketing grabs a place as one of the top digital marketing companies in Ahmedabad at GoodFirms.
Increasing Traffic with Local SEO
Search engine optimization is a key tool for increasing website traffic and maintains a high rank in the SERP pages. The SEO strategists of Hitz explore ways to optimize businesses and improve their online ranking. So, if your web page does not rank in the top Hitz team, it can help you optimize the website. Either a start-up or an established firm, the team can offer local SEO services to target a specific region or city.
The SEO team is equipped with all knowledge and skills required to build productive search engine optimization. Having set a benchmark as one of the best search engine optimization agencies, their solutions are laced with perfection and accuracy. To increase the demand for products or services in a specific area, the team provides the right answers to improve a company's local listing. Thus, working consistently to offer expert SEO solutions, Hitz Digital Marketing holds a prominent spot amongst the top local SEO companies at GoodFirms.
Improving Online Presence with Web Designing Services
Apart from digital marketing services, the company is equally experienced in offering web designing services. Looking at the present competitive market, having an enticing website is not a choice, but a prerequisite. And thus, the Hitz team assists clients in improving their online presence with leading-edge website designing services.
By creating a resonating brand story with their designing services, the team has completed numerous website design projects. Apart from this, they are also involved in designing corporate websites, landing pages, and blogs or news portals. Moreover, the group uses the latest tools and technologies, such as- CSS, W3C compliance, and SEO. While designing a website, the team ensures that the website is easy to navigate and offers a rich user experience. Thus, working for the benefit of clients' business Hitz Digital Marketing ranks among Ahmedabad's top web design companies at GoodFirms.
About GoodFirms
Washington, D.C. based GoodFirms is an innovative B2B Research and Reviews Company that extensively combs the market to find top Digital Marketing, SEO, and Web Designing Services firms that offer the best services to its customers. GoodFirms' extensive research processes help rank the companies, boost their online reputation, and helps service seekers pick the right technology partner that meets their business needs.
About the Author
Anna Stark is a staff writer with GoodFirms – a Washington D.C. based B2B Research Company that bridges the gap between service seekers and service providers. Anna's current role includes gauging companies' performances and their key attributes and putting them into words. She firmly believes in the magic of words and is always on the lookout for new strategies and ideas that companies have gladly embraced, and then helps them shine a light on those to make their identities shine brighter.